Community Ultrasound
Beehive Healthcare Solutions have been providing Essex Community Ultrasound Services for the Essex CCG since April 2012. Currently we have Beehive Healthcare Community ultrasound clinics in Chelmsford, Brentwood, Basildon and Southend providing Ultrasound scans to Private and NHS Patients.
The service is designed to provide local access for Essex community GP referred patients, (those with an ultrasound examination request from a General Practitioner with in the Mid Essex region); and reduce the pressures on local Acute Trusts hospital ultrasound services where waiting times are longer.
As an NHS service, the provision is free of charge to the patient, with a fixed fee per patient being paid by the NHS:
Initially, the service was funded through the South-East Essex CCG. As part of the changes to the NHS brought about by the Health and Social Care Act 2012, Primary Care Trusts (PCT's) and Strategic Health Authorities (SHA's) ceased to exist on 31 March 2013. Their responsibilities were taken over by Clinical Commissioning Groups and the NHS Trust Development Authority.
By implementing this kind of Beehive Healthcare community based Ultrasound service; not only is high quality care preserved, but the patients experience reduced waiting times, more convenient appointment slots, reduced transport costs and faster turnaround back to their GP with the results. In addition, the service represents a considerable cost saving to the NHS as a whole, compared with purchasing similar services through the local hospitals.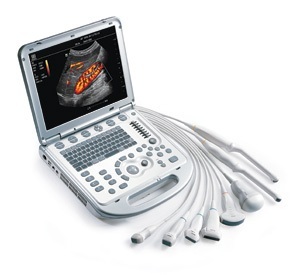 The Ultrasound examinations are performed by qualified, highly experienced, Sonographers and Radiologists using top-of-the-range portable Ultrasound equipment in modern clinic facilities (generally GP Surgery Clinics). There is a Healthcare Asssitant on hand for support and to act as a patient Chaperone when needed.
The ultrasound equipment used throughout our Essex region for the Ultrasound service represents the lastest technology available and is serviced and updated routinely to ensure continuity of results, We are currently utilising Mindray M7 and M5 Ultrasound Scanners.
The Ultrasound report will be sent back to the GP with in 48hours. Indeed, it is often possible for the patient to leave the clinic with a copy of their Ultrasound report for delivery to the GP at their convenience. All urgent reports are sent to the GP on the same day.
Where required, the Sonographer has access to Consultant Imaging Staff to reveiw results, clarify findings and provide additional imaging options.
Download an Ultrasound Request Form
Beehive Solutions, under whom the Mid Essex Community Ultrasound Service is performed, is registered with the Care Quality Commission and our CQC approved protocols and procedures ensure all patients receive the best possible quality of care.
See the Beehive Solutions' Care Quality Commission registration (opens in new window)
or download Beehive Solutions' latest CQC Inspection report.