Small-Parts Ultrasound Service
Small Parts including Thyroid & Testes Scanning Service.
Ultrasound scanning of so-call "Small-Parts" requires both specialised scanning competency and specialised ultrasound equipment. Failure in either aspect will lead to false-negative or false-positive findings, or incorrect diagnosis of pathology found.
Most qualified Sonographers will have received training in Ultrasound of the Lymph nodes, Neck, Chest, back, Thyroid, Scrotum, Lumps & Bumps, and will be aware of the broad spectrum of pathology that can afflict these organs and surrounding structures along with their standard Ultrasound appearances.
However, unless they are performing these scans routinely, in sufficient numbers to see a range of pathological and normal appearances, they are not going to be competent to identify every abnormality and make any form of recommendation on when further imaging is required.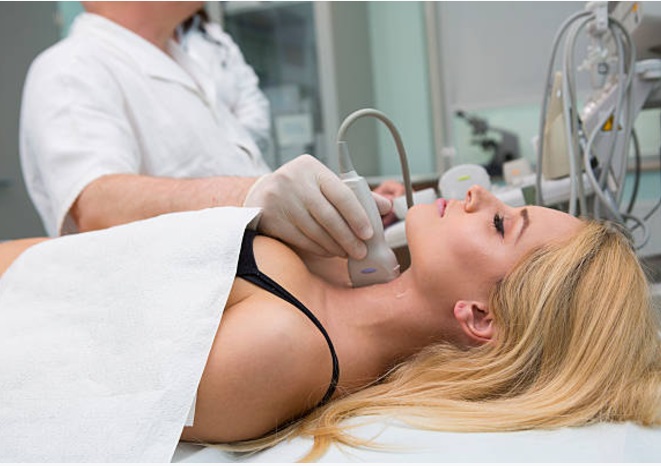 At Beehive Healthcare Solutions we ensure our Sonographers are fully competent in any and every ultrasound examination type they perform, to ensure you receive and accurate and comprehensive examination reports that you can confidently use to choose on further patient management.
Our Scanning staff will have recent and substantial NHS experience. In most cases they will be concurrently scanning in an acute Trust.
Our Ultrasound scanners are all high-specification systems with transducers specifically designed for the case mix scanned. In particular, for Small-Part scanning, we insist that our transducer/scanner combination has an axial resolution of <0.3mm, a lateral resolution of <3mm & 1mm focal zones.
Joint recommendations of the Royal College of Radiologists [RCR] and the Society and College of Radiographers [SCOR] recommend a review of scanning equipment after 5 years to ensure it is still fit for purpose. We go further than this with an active replacement program to ensure no scanner is more than 5 years old.
In addition, as part of our company-wide Quality Assurance program, every scanner and transducer undergoes routine assessment to ensure their is no degradation over time in its capabilities and function
In short, with Beehive Healthcare Solutions, you can be confident that your need for 'Small-Part' Ultrasound scanning will be met with a fast effective an accurate service, that puts you and yor patient front and centre.
And of course, you can always combine a 'Small-Part' scanning service with another modality, such as MSK Ultrasound.
Read More about our MSK Ultrasound service Contact us for more information